Description
Free Shipping on this and all products ordered with it when the CART reaches $60.00.
Free shipping is available when three of the product are purchased.
UNICITY ALOE VERA INFORMATION SHEET
Suffering from indigestion? Try out this natural Aloe Vera supplement to improve your digestion without any side-effects. Check your health concern to locate other Unicity products which may be preferred.
Benefits
It will boost digestion
The natural antibacterial properties present will cleanse toxins
Your gastrointestinal and urinary systems will be nourished
Product Details
Aloe Vera is made out of nature's healing substances that have been time-tested.
It will provide amino acids, minerals, enzymes, vitamins, glycoproteins and essential oils.
It will help the body to cleanse itself.
Suggested Dosage
Take one capsule daily with water.
Science
The history of the Aloe Vera plant healing properties is long.
The aloe gel source is extracted from the large blade-like leaves of the plant. The pulp-like gel is clear and found in the inner chamber of the Aloe Vera leaf. It is tested to have wound-healing and immune modulating agents.
There are a variety of nutrients, including those that help the body cleanse itself in the outer portion of the leaf, also called the rind.
Aloe neutralizes the tissue toxicity found in body toxins thereby relieving joint pain.
Aloin is found between the rind and gel of the Aloe Vera plant.
Aloin boosts your digestive regularity by stimulating peristalsis in the gut. It increases bowel movements to alleviate constipation.
ALOE VERA INGREDIENTS and RECOMMENDED USE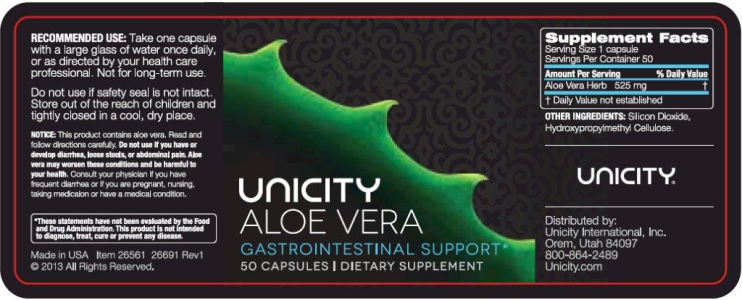 NOTE: You may also be interested in the following: