Description
A $20.00 Instant Rebate will be applied to this product at checkout.
Free Shipping on this and all products ordered with it.
UNICITY BALANCE (BIOS LIFE SLIM) INFORMATION SHEET
Information Sheet
Balance Profile Sheet 
FEATURES AND BENEFITS
Bios Life Slim contains no sugar or sweeteners.
Increases the feeling of being full after meals.
A proprietary fiber matrix promotes healthy cholesterol levels.
Healthy blood sugar levels are sustained.
An increased leptin response in the brain reduces the appetite.
The glycemic index of foods is positively affected.
With Bios Life Slim, the cholesterol level is brought into balance, blood sugar level is controlled, and body fat is burned.
PRODUCT INFORMATION
Bios Life Slim consists of a proprietary formula of natural ingredients contributing to:
Maintenance of healthy cholesterol
Blood sugar maintained at a healthy level
Meeting your goals for weight loss
Bios Life Slim includes a dietary fiber (proprietary blend), a full complement of vitamins, minerals and natural phytosterols. It is an essential supplement to lower cholesterol and provide for the overall cardiovascular system health.
Five grams of fiber make up the fiber matrix in Bios Life Slim. It is a revolutionary design. The action of cholesterol operating in the digestive tract is offset by this form of fiber. This blend of fiber sustains healthy blood glucose levels by slowing down the rate of digestion through the formation of a viscous gel. The blood sugar level spike after a meal is avoided by the action of this fiber blend.
Meet your goals for weight loss by sticking to the existing 4–4–12 rule, described below, and restrict the daily intake of carbohydrates.
SUGGESTED USE
Drink a serving of Bios Life Slim 10 to 15 minutes before eating each of your two largest meals.
Combine a packet of Bios Life Slim with 8 to 10 ounces of water, shake or stir vigorously and drink immediately.
SCIENCE
1. Maintenance of Healthy Cholesterol levels
Dietary fiber supplements, within Bios Life Slim, provides the body with balanced cholesterol levels by reducing future increases in cholesterol. This is accomplished by two mechanisms.
First, a gel-like substance form in the small intestine from taking in both the soluble and insoluble fiber. Bile acids are trapped by this gel preventing them from being absorbed by the body. The trapped bile acids are replaced by the body drawing out cholesterol, thereby reducing overall cholesterol supply.
Secondly, short-chain fatty acids are created by fermentation of fiber in the intestine which further reduce the integration of cholesterol in the body.
2. Phytosterols
Bios Life Slim includes phytosterols as an ingredient which assists the body in maintaining healthy cholesterol. These natural plant compounds have a very similar chemical structure to cholesterol itself. Proteins cannot distinguish the difference and retain the phytosterols in the bloodstream allowing cholesterol to be removed from the body.
3. Supporting Healthy Blood Glucose
Energy is generated by converting the calories from food into glucose.
The pancreas releases insulin as blood glucose levels rise. This action unlocks cells allowing the glucose to produce energy.
If your body does not require all of the glucose created, the insulin will store it away as fat in fat cells.
Bios Life Slim slows the rate your body turns food into glucose. It limits the amount of insulin needed, therefore, instead of converting glucose to fat, your body will use the glucose for energy.
Additionally, your body will enter a state of fat-burning by generating glucagon, working to raise low blood sugar levels by breaking down the storage of fat.
4. Bios Life SLIM and the '4–4–12' principle
The '4–4–12' principle allows Bios Life SLIM to work best in achieving your weight loss goals. The '4–4–12' principle helps you develop a regular interval for your meals. Following this principle, you will create between meals, a fat burning condition for your body.
The '4-4-12' principle is as follows:
• A 4 hour wait time is required between the high-protein Unicity Complete breakfast and lunch.
• Supplement your lunch with Bios Life SLIM and allow a minimum of 4 hours between lunch and dinner or the evening meal.
• After your evening meal, enhanced with Bios Life SLIM, 12 hours must be allowed before, again, eating breakfast.
5. The Fat-Burning Zone
Following the '4–4–12' principle creates a period when the fat cells are opened providing for energy demands. This occurs at the time when carbohydrates are no longer in your system. This period is referred to as the fat-burning zone.
$4 Billion of the Bios Life product is sold world wide.
_____________________________________________________________________
This product is listed in the PDR along with fifteen other Unicity products.

Reference the PDR page to verify the medical details of the product shown on this page.
Note: The PDR is a desk reference of medicines prescribed by medical personnel.
;__________________________________________________________________________
Recommended Usage and Ingredients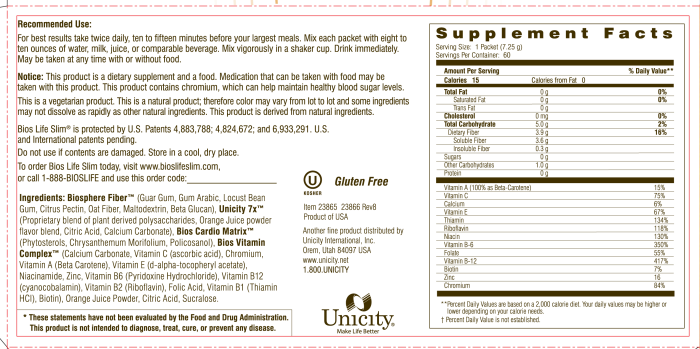 __________________________________________________________________
Testimonials by Health Professionals and  Others

Make life better with Unicity's proven products
Unicity BALANCE: Get Results Now
(Previously Named Bios Life SLIM)
Enjoy the following video testimonial about the Bios Life SLIM Product.
Unicity directs its attention to both physical health and personal development with proven products and structured business opportunity to "make life better" for thousands of people worldwide.
How U BALANCE Works: Simply SLIM
The Science of Balance