Description
Free Shipping on this and all products ordered with it when the CART reaches $60.00.
Free shipping is available when three of the product are purchased.
Being overweight can be associated with metabolic disorder. Find relief for all ailments with this natural Cleanse Tea supplement. Look out for other Unicity products to aid other health concerns.
Benefits
Drinking Cleanse Tea will:
clean your body and prepare it for optimal weight loss
remove waste products from the body
remove excess water from the body
promote the absorption of nutrients
Product Details
Cleanse Tea is power-packed with natural herbs-dandelion, ginger, senna, red clover, lemongrass, and licorice to provide a relaxing and rejuvenating sensation.
It removes waste from the body, promotes good digestion and prepares the body for the Unicity weight management system.
Cleanse Tea contains neither stimulants nor caffeine.
Suggested Usage and Dosage
For ages of 12 and up
Steep a tea bag for 2 to 5 minutes. Start slowly and increase the steep time gradually. Drink cold or hot.
Cleanse Tea and Nature's Tea should be taken on different days.
Cleanse Tea is to be taken just before bedtime.
Pregnant and lactating women are not advised to take Cleanse Tea. 
Not for long-term use. There could be minor laxative effects from the ingredients. Don't use longer than ten consecutive days. 
Science
Your body is constantly exposed to injurious substances in the diet and air supply among other things.  Though the body naturally detoxifies itself, additional nutrients from Cleanse Tea can help the body's organs such as the liver, immune, urinary, gastrointestinal, glandular, and circulatory systems function even more efficiently.
Remember, the toxins can damage the body's natural weight-control mechanisms and cause more obesity.  Toxins are also associated with negative thought patterns and emotions.  It is important to rid the body of all toxins continuously.
CLEANSE TEA INGREDIENTS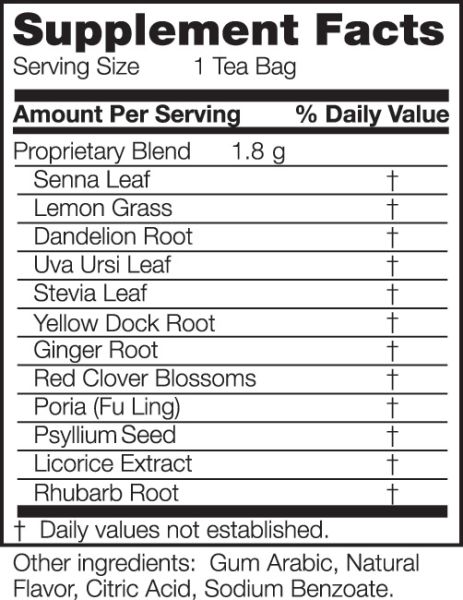 CLEANSE TEA RECOMMENDED USE