Description
Free Shipping on this and all products ordered with it when the CART reaches $60.00.
 Free shipping is available when two of the product are purchased.
Do you often find yourself suffering from joint pain? Consuming this Joint Mobility supplement can be beneficial for you.
Benefits
It protects the joints involved in the function of bending and rotating.
It supports joint health and strength including the immune system.
Product Details
It is designed to support your joint health.
The type II collagen (UC-II) present in its original molecular structure interacts with antibody molecules to deactivate collagen-specific T-cells. It then stops the enzymes which typically cause a joint breakdown.
As per studies, UC-II is twice as effective as other supplements commonly used for joint health.
Joint Mobility also contains vitamin D3 which performs a similar task of supporting healthy T-cells.
It also contains turmeric and Boswellia extracts that aid proper joint function. They will shut down the T-cells that cause joint breakdown and then they aid in strengthening joints.
Suggested Use
Take two capsules daily with water.
Science
UC-II: Epitopes in the Undenatured Collagen cooperate with antibody molecules and deactivate the T cells that are collagen-specific.
Turmeric Extract: Curcumin present in the Turmeric spice has been found to be safe in multiple studies, even with high doses.
Boswellia Extract (frankincense): Use of this herb is known to decrease inflammation.
Vitamin D3: Vitamin D plays a significant role in the immune system.
_______________________________________________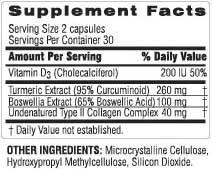 RECOMMENDED USE