Description
Free Shipping on this and all products ordered with it when the CART reaches $60.00.
Free shipping is available when two of the product are purchased.
Take this LiFiber supplement to cleanse your colon and reach your weight loss goals.
Benefits
It will cleanse your colon
It will help you reach your weight loss goals.
The amount of soluble fiber present in LiFiber is greater than oat bran. For every 10 gram serving, you will get are 5.6 grams of soluble and insoluble fiber.
 It helps in clearing toxin and other wastes from the colon.
It maintains healthy blood cholesterol.
It will provide a full feeling.
Product Details
American Cancer Society recommends 25-40 grams of fiber per day. A typical daily diet of fiber for the average American is 8-10 grams.
This powder drink is psyllium-based and can benefit your gastrointestinal tract.
It provides ample high-quality dietary fiber and herbs including 29 different herbs. It comes with both insoluble and soluble fiber. The soluble fiber helps to sustain cholesterol at a healthy level while the insoluble fiber assists in clearing toxins and other wastes from the colon by passing quickly through the digestive system.
The soluble and insoluble fibers in Unicity's fiber blend, along with probiotics will boost healthy bacteria in the gut and support by a healthy balance of microflora,
Your digestive system will be protected against damage by Cayenne Fruit, a natural antibacterial agent.
Clove present in the supplement is a powerful anti-parasitic and antibacterial herb,
Peppermint Leaf will reduce bloating and dyspepsia.
Licorice Root can help in proper digestion.
Black Walnut will provide a natural cleansing action as it contains astringent.
Pumpkin Seed will get rid of parasites and other unwanted organisms.
LiFiber includes 23 other herbs, in addition to these natural cleansing herbs.
Suggested Use
Add 1 level scoop (10g) to 8 to 10 oz of water, juice or other beverage, mix and drink immediately.
Use sufficient liquid to avoid the chance of choking.  Avoid it if you have difficulty in swallowing.
Science
Disease caused by an unhealthy colon is estimated to be 90% of the disease in America. Fatigue, headaches, bad breath, skin blemishes, and joint distress can result from a congested colon.  It can also cause early aging.
U LiFiber INGREDIENTS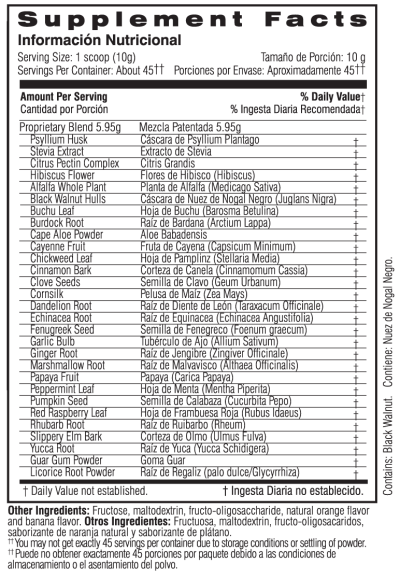 RECOMMENDED USAGE