Description
Free Shipping on this and all products ordered with it when the CART reaches $60.00.
Free shipping is available when two of the product are purchased.
Studies revealed that there is a second brain in your gut. Your well-being depends largely on the proper functioning of your gut. If you are having digestive issues such as bloating, gas or diarrhea, you are most likely to have an unhealthy gut. To help maintain your digestive tract, try out the ProBionic, a natural formula with 4 different strains of beneficial bacteria. Also, check out our other Unicity products to support your other health concerns.
Benefits
ProBionic will:
Reduce digestive discomfort
Supply healthy gut flora
Support natural defenses
Improve bowel function
Encourage bowel function
Product Details
ProBionic is power-packed with 4 different strains of beneficial bacteria that are formulated in the ProBionic product. They combine to provide a balance of bacteria in your body adding to your well-being and good health.
These bacterial strains are microencapsulated to travel to the intestinal tract efficiently.
Each strain in ProBionic has been proven to support your digestive system's health, reduce inflammation in the gut, promoting the healthy functioning of the bowels, and support the immune system.
Your body's metabolism function will be enhanced. No more bloating, nausea, diarrhea, abdominal cramps or intestinal ulcers that are all related to an unhealthy gut. Stir clear of all gut related conditions.
Suggested Use and Dosage
Open the packet and pour the ingredients into your mouth. It will mix with saliva to enable swallowing. You can also stir the total contents into a liquid of your choosing and drink.
Appropriate for children
________________________________________________________________
This product is listed in the PDR along with fifteen other Unicity products.   
Reference this PDR page to verify the medical details of the product shown on this page.
Note: The PDR is a desk reference of medicines prescribed by medical personnel.
_________________________________________________
PROBIONIC INGREDIENTS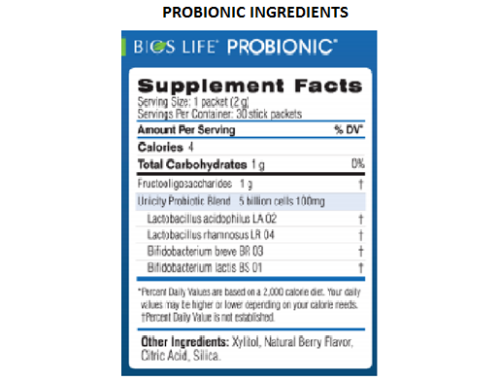 A VIDEO DESCRIBINGTHE BENEFITS OF UNICITY'S PROBIONIC.